Programme
Friday evening – 19:00 till 00:30 
There are many short(er) 18xx games ideal to kick off the convention. We will provide a sessions schedule to shorten the typical "what do we play" discussion. So experienced players can propose a game to find a group of players. 
Also players new to the game can be introduced into the wonderful world of 18xx. An experienced player will teach the game and discuss some tips, tricks an traps during (and after) the game.
Saturday – 9:00 till 19:30
On Saturday a broad selection of 18xx is organized and hosted by experienced players. This is an excellent opportunity to test new 18xx games or to compete with other experienced players. We kindly ask all participants to be present on time, so all games can start at 10:00 (at the latest). Players who cannot make it during the day, can still join for an evening session.
If enough interest, we organise a 18OE: On the Rails of the Orient Express or any other long 18xx (>10 hours). If you are interested, please let us know.
At 17:00, we will celebrate our 5th anniversary, with a toast and a delicious barbecue (17:30-19:30).
Saturday evening – 20:00 till 01:00 
The evening is similar to Friday evening. There will be a sessions schedule, though all sessions are open and we sincerely ncourage all attendees to play whatever they like.
Sunday – 9:00 till 16:00
The convention is closed at 16:00. The last day of the convention, an excellent opportunity to play the last one for the road. No planned sessions since we encourage all attendees to form groups upon arrival. 
Designers & Prototypes
During the convention, we also give the stage to designers and publishers to demonstrate their new releases or to test new prototypes. For all 18xx fans, this is not only an excellent time to meet the brains behind 18xx, but also to test, to try and to contribute to new prototypes.
We provide poker chips at every table. Feel free to bring your own set, but don't bother when you cannot.
---
Registration
Registration is required. Please only use the registration form on this website.
Each attendee should submit a registration form.
The registration fee is
Fridays (19:00-00:30): € 5
Saturday (9:00-01:00): € 15
Sunday (9:00-16:00): €10
Convention access: € 25
If you cannot make it during the day, it is also possible to join just the evening session on Saturday for € 5.
---
Parking
Parking at the convention is possible and you can leave your car overnight. Please provide your number plate at the registration form. 
The parking fee is
€ 5 per day
€ 10 for a convention access
After your registration, you will receive an email with additional information and a bank account. The registration fee has to be paid by bank transfer before the convention. If this is impossible for any reasons, please contact us.
Registration will start at 1 September.
---
Facebook & Slack
18xx Belgium has a Facebook group to inform people about what's going on in the 18xx community in Belgium. We also have a slack channel. An invitation to the slack channel will be included in your confirmation mail. Slack is an excellent medium to make suggestions and requests to the sessions schedule.
---
Location & Accessibility
The convention will be held at Saint Rumbold's College in Mechelen.
Sint-Romboutscollege
Veemarkt 56
2800 Mechelen
Belgium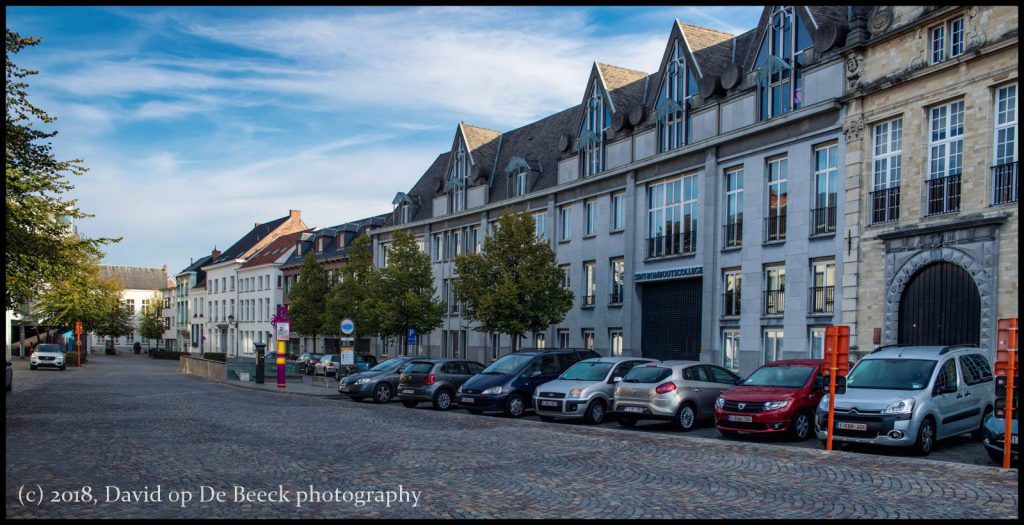 The college (founded in 1856) is situated in the historical and tourist town centre of Mechelen (86.000 inhabitants), at walking distance of both railway stations (Mechelen-Nekkerspoel, 5 min walk; Mechelen [central station], 15 min walk). There is also a main bus station at the square itself (Veemarkt).
From Brussels Airport, there is a direct train connection to Mechelen central station, which takes only 11 minutes. We advice to avoid Charleroi Airport (Brussels South) as a destination, since it takes much longer to reach Mechelen. For special cases (like groups or night arrivals/departures) and if it suits our schedule, we can try to offer a shuttle from or to the airport.
It is possible to park in the college during the convention, though spaces are limited, so you have to register (by providing your number plate).
More information at the website of Mechelen.
The convention is perfectly accessible for disabled persons.
---
Food & Drinks
During the convention, we offer a nice selection of food and drinks at democratic prices. At former editions, you could "build your own sandwich" at noon and "build your own burger" in the evening, which was then prepared and served at your table.
Please note that payments by card are not possible (it is a school, remember), so you need cash. If needed, there are ATMs in the neighbourhood. For Belgians, payment by Payconiq is possible.
In our bar, besides soft drinks, you can find delicious Belgian beers (especially, but not limited to, Gouden Carolus from Mechelen) and a specialty of Mechelen: a single malt whisky, distilled from the mash of the Gouden Carolus Tripel Beer. A must for whisky-lovers.
More information at the website of brewery Het Anker.
---
Hotels – Accommodation
Mechelen has a lot of lovely hotels and cosy B&B's. We also have a youth hostel (Zandpoortvest, next to the free car park) and appartments (like Value Stay Residence). Opposite the college there is a Holiday Inn Express and there is also a wonderful hotel in the brewery Het Anker. But many more hotels and B&B's can be found in or close to the historic town center.
You can find lots of information about accommodation on the tourism website of Mechelen here. If you need some assistance finding or booking a hotel, just contact us.